Tools of the Trade: How to Smash Steel at 1,000 Yards
Dave Maas 09.12.17

As an avid bowhunter, I often estimate shooting distance in feet, not yards. I've killed far more whitetails and turkeys at 25-30 feet than I have at 25-30 yards. And even though I've been a firearms hunter for 40 years, my longest shot on a game animal is about 200 yards. From a kneeling position after a long and careful stalk, and with the aid of shooting sticks, I dropped a caribou (below) in his tracks with one bullet from a 270 Win. single-shot rifle.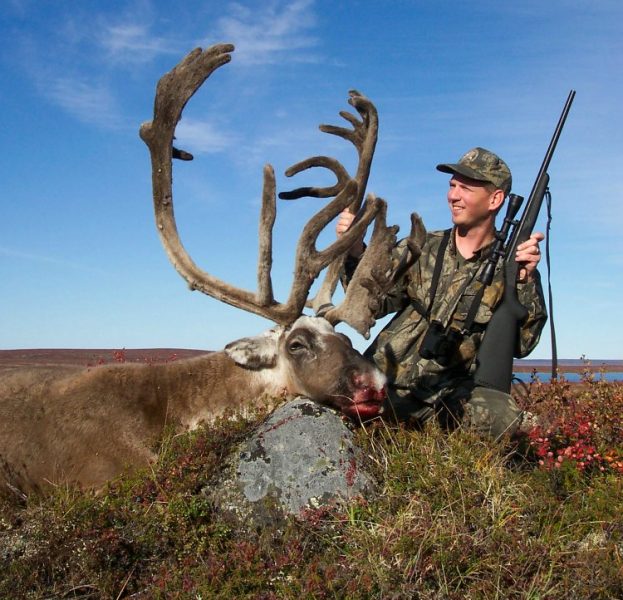 Through the years, I've been lucky enough to pursue big game throughout much of the United States and Canada, but I've never stretched the shooting distance. I either stalked closer or passed on an animal if it was beyond 200 yards. In a way, I often felt like I was cheating a bit by carrying a high-powered rifle instead of my bow, so practicing at 200-plus yards and taking distant shots were never a serious consideration.
I doubt if my opinion on taking long-range shots on animals will ever change. I can remember telling my guide on a British Columbia moose hunt 17 years ago: "I'd rather shoot a 50-inch bull at 40 yards, than a 60-incher at 400." I believe the same today.
That said, I've always been interested in learning about long-range shooting, and especially the gear and math involved. (FYI: my college degree is in mathematics.) So, when I was invited by my good friend JJ Reich from Federal Premium (parent company, Vista Outdoor) to attend a long-range shooting seminar/school in Texas, I jumped at the chance.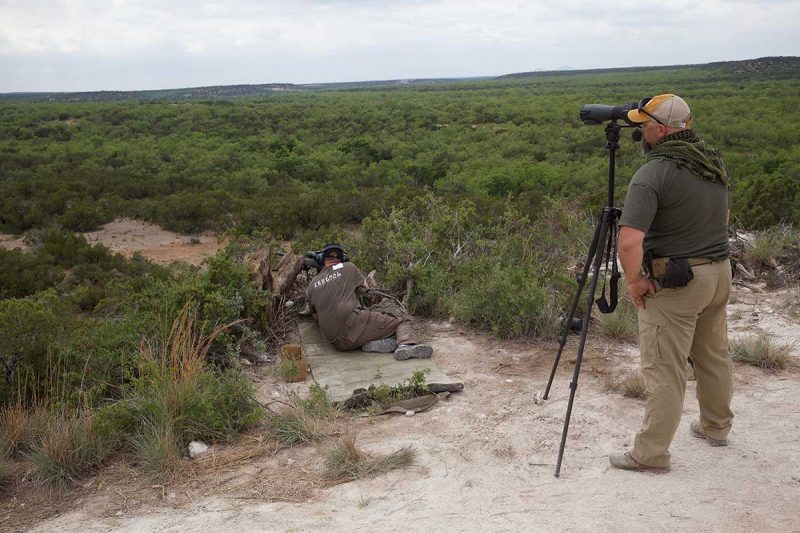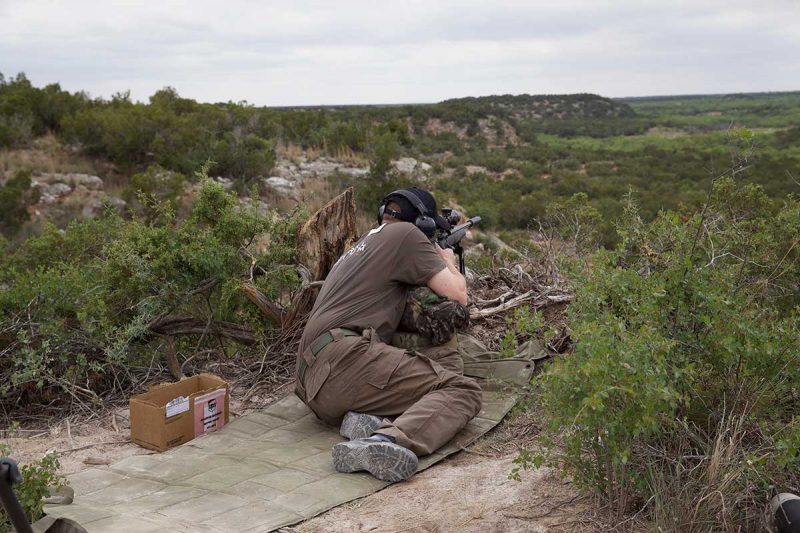 You can click here to read my first article about NRA Outdoors Long-Range Shooting Schools, including the one offered in Texas. I'll spend the remainder of this story talking specifically about the gear used and instruction I received for hitting long-range steel targets, both from the bench and field positions.
Recipe for Ringing the Bell at Long Range
A couple of JJ's coworkers at Vista Outdoor towed a large enclosed trailer filled with guns, glass and ammo to our Texas shooting school. Instead of boxes of ammunition, think cases. For guys like me who love trigger time, it was tough to stop smiling.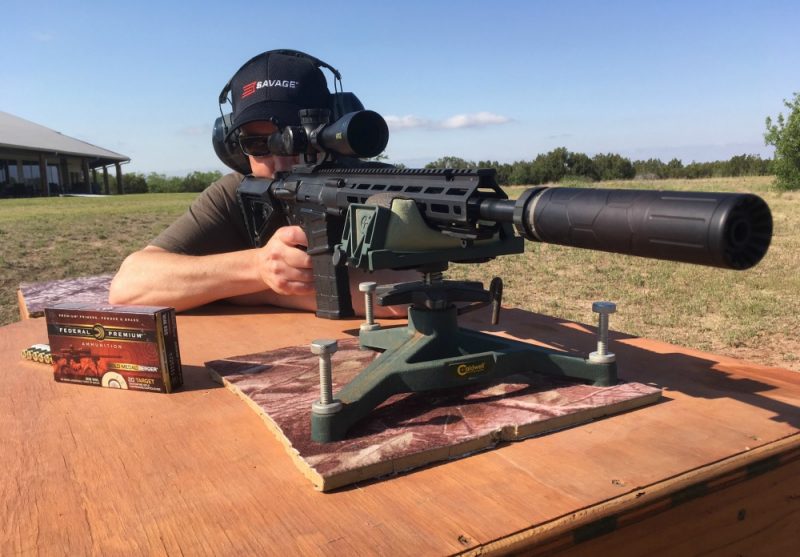 Firearm: JJ and his team brought everything from the Savage B17 Rimfires (click here for my review of this bolt-action 17 HMR rifle), to various Savage MSRs (Modern Savage Rifles, in 223 and 308), to long-range firearms like the Savage Arms Model 10 BA Stealth. The Model 10 BA (BA = Bolt Action) Stealth is available in 308 Win. and 6.5 Creedmoor; I tested the latter. MSRP for both cartridges: $1,207.

According to JJ, Savage teamed with Drake Associates to expand its BA line of long-range chassis rifles (BA should really stand for Bad Ass). The new Model 10 BA Stealth is a lighter, more compact option in the BA line.
It has a factory-blueprinted Model 10 barreled action mated to a custom version of the Drake Hunter/Stalker monolithic chassis, which has been modified to Savage's specs. Other features include: monolithic chassis machined from a solid billet of aluminum; M-LOK fore-end and Picitinny rail for easy configuration; 5/8 24 threaded muzzle with protector; EGW one-piece scope rail; Fab Defense GL-SHOCK six-position, shock-absorbing buttstock with adjustable cheek riser; and an adjustable AccuTrigger. Like I said — Bad Ass.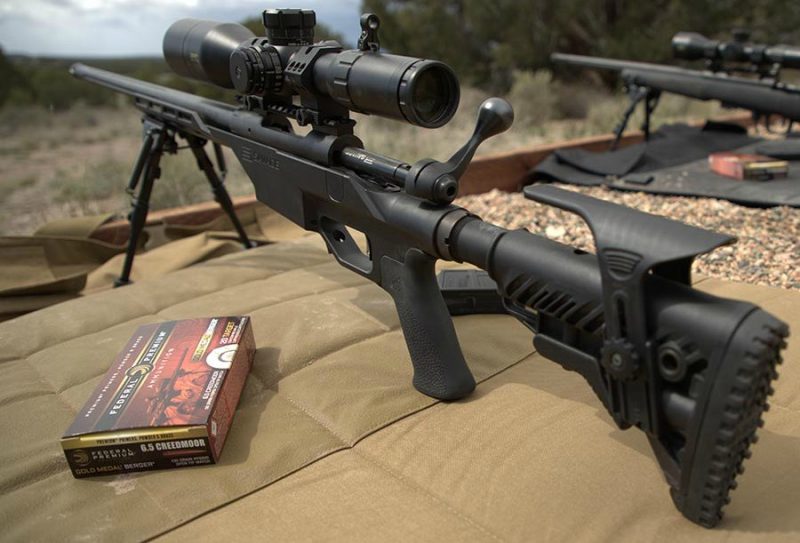 Note: The BA Stealth is also available in a long action, called the 110 BA Stealth, in 300 Win. Mag. ($1,484) and 338 Lapua ($1,622). The 110 BA shares all the same features as the 10 BA except for its Drake one-piece long scope rail, and a Fab Defense GLR-16 six-position buttstock with adjustable cheek riser.
On the business end of the barrel, my Model 10 BA Stealth was fitted with a BLACKHAWK! Gas Can 7.62mm Suppressor (photo below). It weighs only 13.2 ounces and reduces muzzle blast from a 308 Win. by 36db — you can't find an ear muff that effective.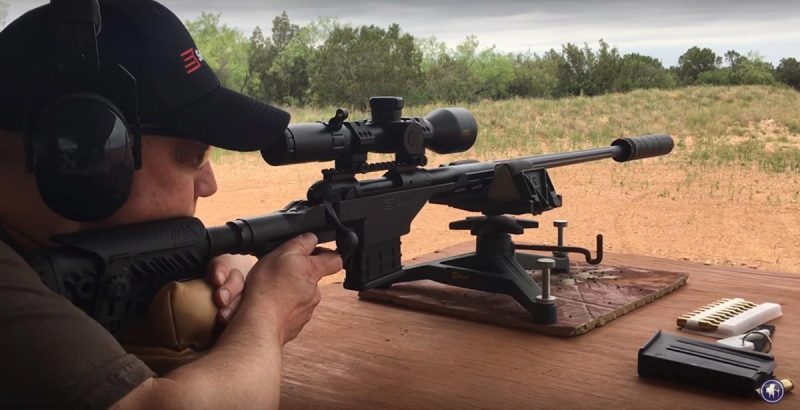 Riflescope: You can't hit what you can't see, no matter the range. Because the whole reason for my visit to this Lone Star State shooting event was to reach out and smash things at long range, the riflescope mounted on the Model 10 BA Stealth needed to be equally capable.
As the photos here show, my rifle was topped with a Bushnell Elite Tactical DMR II-i. The 3.5-21×50 scope featured the new G3 Illuminated Reticle (first focal plane), which provides precision holdovers at any range, and thanks to the illumination, it enables hunters/shooters to find targets quickly, even in low light. And it's easy to adjust the illumination because the control is found on the same knob as the side parallax.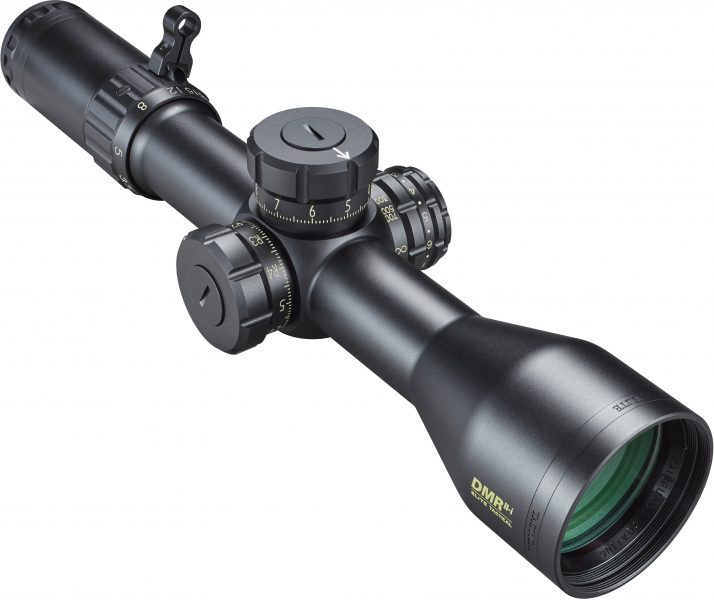 I was surprised by the small size of this scope. Measuring only 13.2 inches long and weighing 2.2 pounds, the 34mm scope isn't a monster. But it sure delivers in terms of features and performance. It has fully multi-coated lenses with RainGuard HD, and I appreciated the scope's generous eye relief, 3.74 inches. The scope also has a ThrowHammer Lever for quickly making magnification changes. The elevation turret gives shooters 10 mils of adjustment per revolution (total of 30 mils up), and the RevLimiter Zero Stop provides a positive return to zero.
Ammunition: As I stated previously, I tested the Savage Model 10 BA Stealth in 6.5 Creedmoor. To ensure I was getting everything possible out of the rifle and cartridge, JJ set me up with several boxes of Federal Premium's new Gold Medal Berger.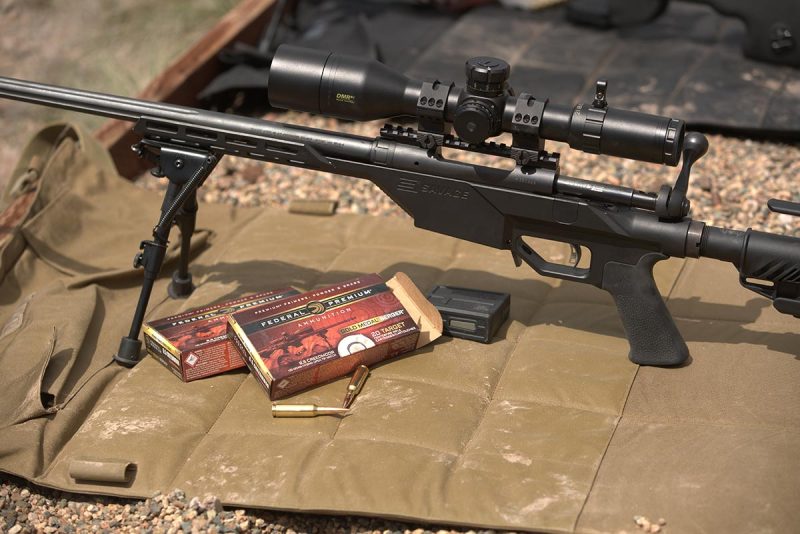 Although I don't follow precision rifle shooting competitions, word on the range is Berger bullets are used extensively. Gold Medal Berger loads feature an advanced boat-tail bullet with a high ballistic coefficient. This means it provides flat trajectory, minimal wind drift and crazy-good accuracy; the 6.5 Creedmoor offering comes with a 130-grain Berger Hybrid OTM bullet.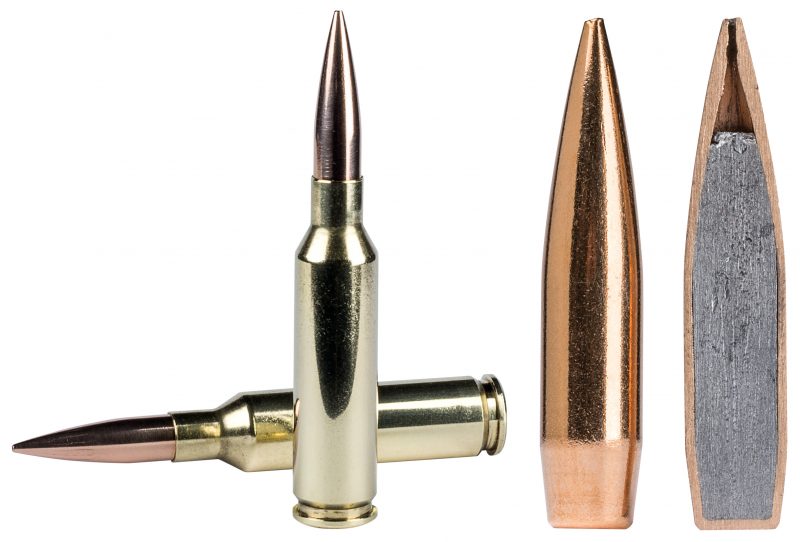 Even the best bullet won't perform as designed without other high-quality cartridge components, so Federal spared no expense by matching the bullet with its best brass, Gold Medal match primers, and a specially formulated propellant — all combined under the company's tightest specifications.
Instructor: Of course, you can have the best gear on the planet, but if you don't know how to use it, then the results will be less than satisfactory. Thankfully, I had Eric Lund at the bench with me.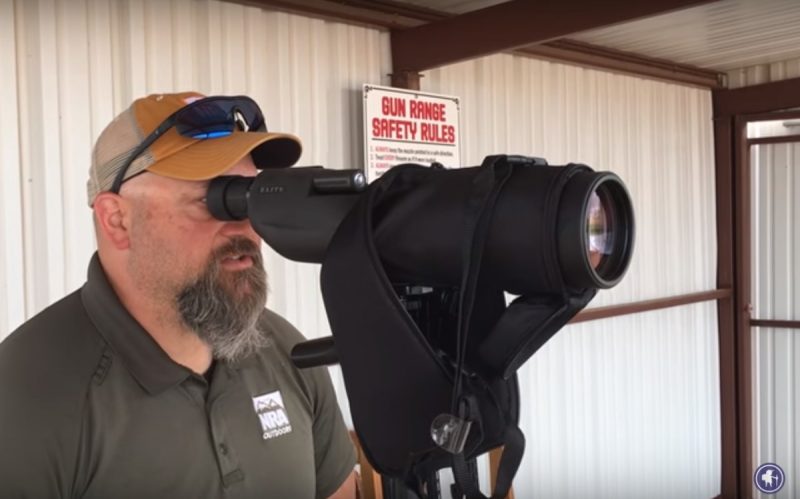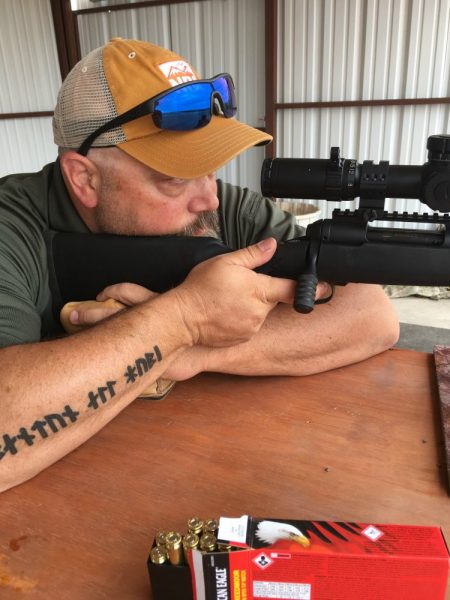 Lund is graduate of both the Virginia State Police Training Academy and the Federal Law Enforcement Training Center. He also holds the title of Senior Firearms Instructor at the United States Shooting Academy in Tulsa, Oklahoma. An active 3-gun competitor since 1994, Lund is holder of a USPSA Grand Master ranking, and has several state, regional and national 3-gun titles to his credit. When Lund isn't testing his skills on the range, he works as a federal agent. Simply put, the letters BA (Bad Ass) perfectly describe my rifle and my instructor.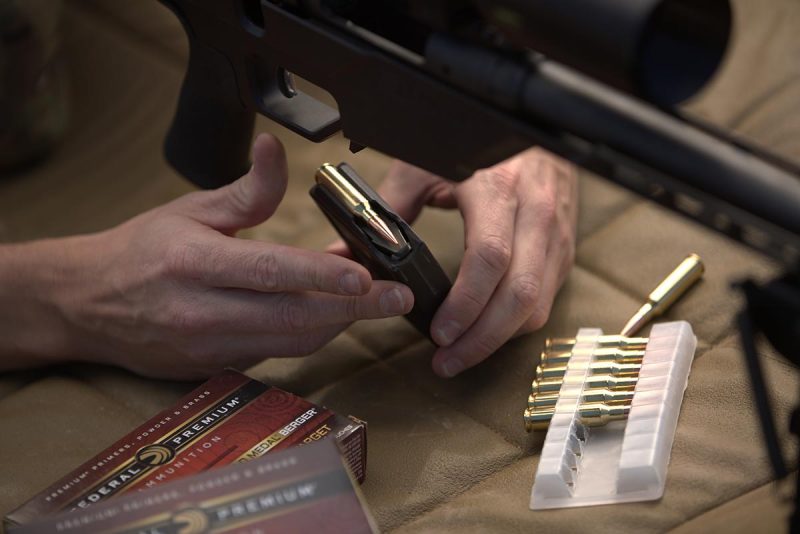 Baby Steps
I didn't pretend to be an expert when I sat down on the bench in front of Lund, who initially was positioned behind a spotting scope and looking downrange. Instead, I told him my experience at shooting long range was exactly zero. He seemed to appreciate my honesty, and with that he sat down across the bench and started explaining the basics.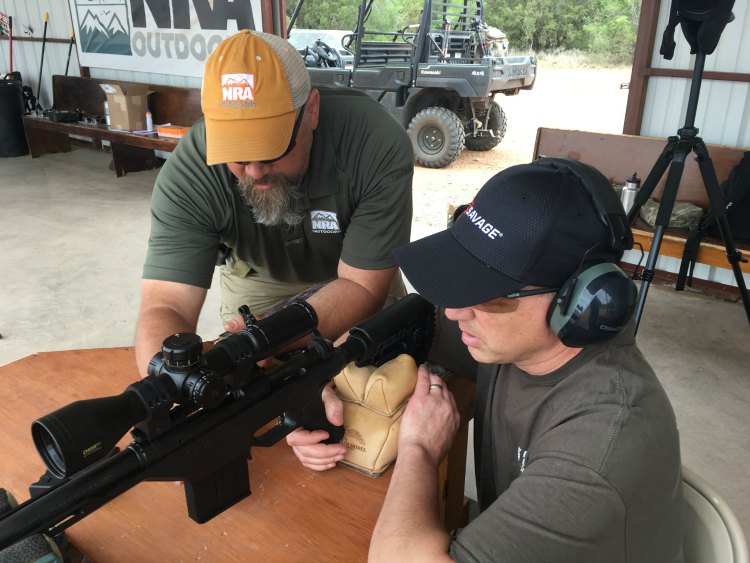 One thing that immediately became apparent was Lund didn't have a "my way or the highway" attitude when it came to shooting form. He demonstrated his preferred method — example, thumb position on my trigger (right) hand during the shot — but also showed me other options. He spent a good amount of time talking about supporting the rifle properly front and back, and making sure I was in a comfortable shooting position. And I learned how to make miniscule elevation aiming changes at the bench by squeezing the rear sand bag with my left hand.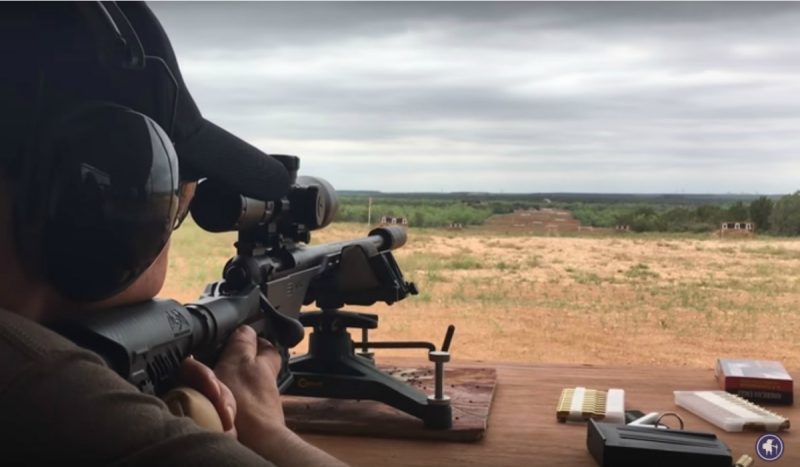 Armed with a basic understanding of proper shooting form, it was time to put my ability to the test by sending lead downrange. We started at 300 yards, which was already beyond anything — steel, or skin and bone — that I'd ever targeted in my life. That said, after Lund called out the correct turret adjustment for elevation, and I dialed the magnification up to 15X, my sight window didn't look all that different than shooting at my dad's 100-yard backyard range in Wisconsin. I had a 10-mph crosswind, but because I was trying to hit a fairly large steel target (12×12 inches as I recall), Lund said to ignore it.
Bong. Bong. Bong.
After hitting the 300-yard target on my first three shots, Eric said it was time to increase the degree of difficulty.
"Nicely done," he said. "See that next row of steel targets? Those are 400 yards. Let's skip them and go to 500."
Again, with Eric providing detailed instructions for adjusting the scope's elevation, I settled in behind the scope and tried to remember what he taught me just 20 minutes earlier. However, this time because wind drift would be more of a factor with hitting vs. missing the steel target, Eric explained the system for calling out windage.
Very simply, depending on how he read the wind through his spotting scope (looking at flags, bushes, etc.), he'd instruct me to hold a certain amount into the wind to compensate for bullet wind drift. At 500 yards, the 130-grain Berger would drift 15-16 inches, so to hit the steel target, I needed to be fairly precise.
Because judging (doping) wind is just as much art as science, it took a bit of teamwork between Eric and myself to get dialed in. And what we learned is that while it was blowing steady — and fairly hard — immediately in front of us in the shooting house, the effects downrange didn't seem to be as significant. In other words, Eric could tell by bullet impact in dirt that we were overcompensating for the wind.
And this is when we also fell into a communication routine between spotter and shooter, which is designed to facilitate accuracy, as well as speed when it comes time to making long-range shots.
"Elevation is good. Give me a half mil for wind and aim dead center," he said. "Spotter up."
To which I replied after finding the correct half-mil aiming point in my scope, "Shooter ready."
And because Eric didn't notice any change in the current wind conditions from his previous call, he commanded, "Send it."
Now, I don't know about you, but when someone of Eric's experience and background tells you to do something, you do it — immediately. But he was careful to explain that I still needed to take my time, aim, and remember to use good form as I broke the trigger. If conditions changed enough during this aiming/firing period that he needed to change his call, he'd let me know. My job in this two-man team was to aim as directed by him, then squeeze the trigger.
Bong. Bong. Bong.
I have to admit — smashing steel at long range was becoming addicting in a hurry.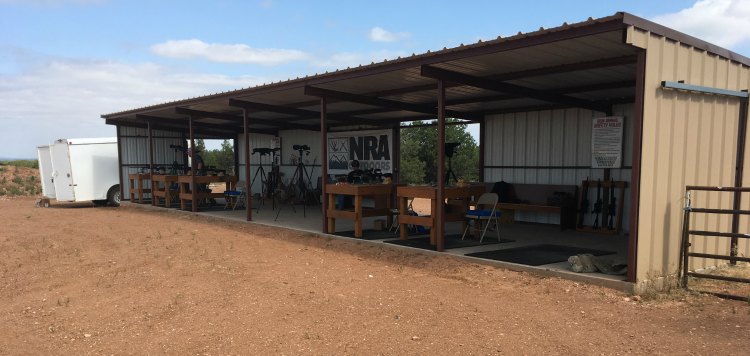 Getting Serious
"Nicely done, Mr. Maas," Eric said after my third bullet impact in a row. "Okay, let's get serious. Well beyond the row of 500-yard targets, and slightly to the right, is a rail containing eight rectangular targets. And hanging on the same rail on far right is a smaller circular target. See it?"
With the naked eye I could see the larger white targets against the reddish-brown Texas soil, but I needed the assistance of the my Bushnell riflescope to spot the smaller circular target.
"Let's get you dialed in for 800," he said. After explaining the necessary elevation turret adjustment I needed to make to be dead-on at 800 yards (bullet drop would be about 13 feet!), Eric went to work judging the wind.
Learning from our experience at 500 yards, and using a ballistic calculator on his smartphone, Eric judged that I needed to hold 1 mil into the wind to ring steel at 800 yards. He expected about 30 inches of wind drift, and the math says that at 800 yards, 1 mil equals 28.8 inches.
Knowing that bullet drop and wind drift would be substantial at this range, I could hardly believe it when Eric yelled "Impact!" after I squeezed the trigger the first time.
I hit five of six targets at 800 yards before Eric offered a challenge. "See the round target on the far right of the rail? That's a 1 MOA target, meaning that circle is 8 inches in diameter. Want to try hitting it?"
His question was equally absurd as asking me whether I'd like ice cream for dessert, so I got behind the scope, and Eric again went to work judging the wind. Based on bullet impact on the larger rectangular targets, Eric judged I should hold 1 mil into the wind, but instead of aiming dead center in the circle, he told me to hold 1 mil on the right edge of the circle.
"Shooter ready," I said, hoping/praying I could get lucky.
"Send it."
Taking in a small breath of air and then holding it for a moment, I concentrated on aiming and squeezing the trigger.
"Impact!"
Wow. I'd just smoked an 8-inch-diameter target at 800 yards — on my first attempt! And while I realized that 95 percent of the credit needed to land on Eric's massive shoulders, I did feel a bit of pride knowing that I hadn't screwed up his instructions.
Feeling confident, I was excited when Eric said, "Good shooting. It's time for 1,000."
Again, Eric took to his smartphone to assist in making elevation adjustments for the riflescope and windage calls. At 1,000 yards, we could expect about 24 feet of bullet drop, and with the crosswind (10 mph, but gusty), wind drift would be 5-6 feet.
As I recall, the steel targets at 1,000 yards were 30 inches tall and 24 inches wide. In other words, judging the wind would be critical. At 1,000 yards, 1 mil equals 36 inches; 2 mils equals 72 inches.
Due to the inconsistent winds, Eric changed his windage call from 1.5 to 2.5 mils, and depending on where he saw bullet impact on steel (hits) or dirt (misses), he often had me hold left edge, center, or right edge of the steel targets to help fine tune my aiming. You can watch a couple of my shots at 1,000 yards in the video below.
Even in the challenging wind conditions, I hit 90 percent of my targets at 1,000 yards. But more importantly, I gained valuable insight into the specialized gear and methods used to hit targets at long range.
I've always been tremendously impressed with the skills of our military, and especially the snipers. While I had success — on a bench — hitting fairly large steel targets, I now have a bit more understanding of what it takes to be truly dialed in for distance. These guys aren't looking to hit someplace on a 24×30-inch target at 1,000 yards, and they don't have a comfortable bench, or all the time in the world to judge the wind. And they get only one shot. Amazing when you stop to think about it.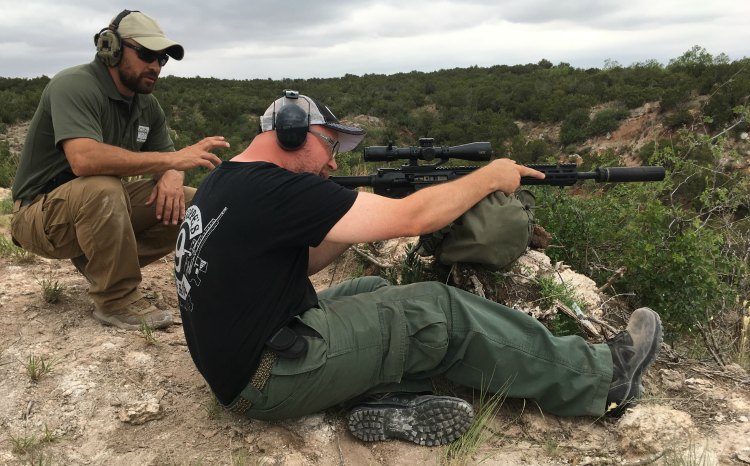 My trip to Texas opened my eyes to shooting at long range, and I look forward to the chance to do it again. Will it change how I approach shooting at game animals in the Midwest? Truthfully, I'm not sure. The next time a mature whitetail buck steps on a field edge to feed, and my rangefinder says 275 or 300 yards, instead of trying to stalk closer, I might click off the safety on my 270 Win. bolt action and remember what I learned at the NRA Outdoors Long-Range Shooting School. With a solid rest (ex: prone with a bipod), an understanding of the ballistics, and most importantly, preseason shooting practice under field conditions, I just might squeeze the trigger.